Basic High Powered Driver 10 – 175cm2
Capacity: 10 – 175cm2 of EL Panels / EL Tapes
– or 8m of EL Wire

Dimensions: 8.8 x 3.2 x 2cm
– (3.5 x 1.3 x 0.8 inches)
Description
2xAA Basic Driver
This 3v EL Driver takes 2 x AA Batteries which will light up to 8 metres of EL wire or 175 sq cm of EL Tapes or EL Panels.
There are two types available:
1) Blinking has a push button on it that cycles through the flashing options: On – Strobe – Flash – Off.
2) Plunger has a 1.2 metre long cord with an on/off plunger switch on the end of it.  This is designed to run down the sleeve and be held in the hand, but can be used anywhere the user needs to operate the Driver remotely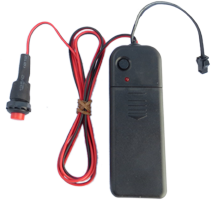 To enable you to light up multiple pieces from just one inverter, please visit our Additional Items section where you will find Splitters, cables & extension leads.