As a specialist in Electroluminescent Technology we also offer lengths of EL Wire.
EL Wire has a copper core coated with the glowing phosphor and covered with a protective sleeve.
The sleeve comes in four different thicknesses:
1.5mm, 2.3mm, 3.2mm and 5mm as well as a 'welted' sleeve that has a thin tag running along it.
The Ultra EL Wire actually has a thicker copper core that gives a greater area of phosphor making it appear brighter
All EL naturally glows light blue/ or blue/green.
This means that to get colours like orange, red or purple the EL Wire needs to be heavily filtered.
For this reason, red and purple EL Wire is much less bright than the pale blue or lime green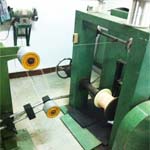 All the EL Wire we supply comes with connectors already attached, and we have lengths in stock from 10cm to 100 metres!
EL Wire needs an inverter to make it glow, get one for the right amount of EL Wire you will be using from our range of Multi-use Inverters