A5 50cm2 – 300cm2 – Mains
Capacity: 50 to 300cm2
Power Input: UK or EU Mains
Dimensions: 12.5 x 5 x 3.5cm
Description
Dedicated A5 mains powered EL inverter
This is a dedicated EL Inverter so it is tweaked to perform best with EL panel and tapes (though it can also drive EL Wire).
These Inverters are well-built for long term use in a strong box with good airflow, and features top range toroidal transformers which run silently.
There is an On/Off switch as well as controls for brightness and the blink speed of the flash.
This is a powerful inverter and to protect it you must have a minimum of 50squ cm of EL panel attached when switched on.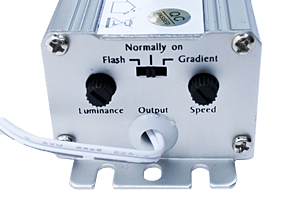 The Inverter has direct mains input and comes with an IEC-C7 figure of 8 UK mains power lead.