Product Description
2.6mm Ultra EL Wire
The Ultra EL Wire is the brightest and most rigid wire available in the world
The copper core running through the centre is thicker than on the standard EL Wires so it gives out more light.
It is also made with the highest quality phosphors, adding to the brightness
Because the central copper core is so thick, the Ultra EL Wire holds its rigidly to its shape when bent
(only the 1.3mm EL Wire does this, to a lesser extent)
Please note ULTRA EL Wire has to be treated more carefully than standard EL Wire
there are 3 things to be aware of:
1. The bend radius of Ultra EL Wire is 1.2cm, which is much less than standard EL Wire which is 5mm
2. The breaking strain is 500g, compared to 1kg for standard EL Wire
3. Pressure on the Ultra EL Wire should not be more than 500g, this means it cannot be pinched too hard or trodden on
The Ultra EL Wire consumes more power to light it up and for this reason you must double the length of wire you are using when choosing an inverter
eg 5 metres of Ultra EL Wire will need an inverter that is rated for 10m of standard EL Wire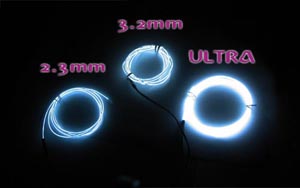 You can run several EL Wires off one inverter, please visit our Additional Items section where you will find splitters and extender wires.
Then calculate the total amount of EL Wire you want to run, (remember to double it for Ultra EL Wire) and visit our Multi-Use Inverters to find one that is most suitable for you